Harlem's Fashion Row hosted its 9th annual style awards and fashion presentation sponsored by Covergirl and Motions last Thursday evening at Pier 59 Studios.
Founded by Brandice Daniel, Harlem's Fashion Row began as a movement to provide industry access, coaching, and financial support for designers of color to experience fair and equal access opportunities to sustain their businesses beyond the runway. Before "diversity" became the buzzword throughout the fashion industry, HFR was already championing designers of color underrepresented in the showrooms and retail space, with success stories like Omar Salam of Sukeina and Kimberly Goldson of Project Runway Season 7.
Brandice's relentless vigor for maneuvering designers of color from cutting and stitching in their living rooms to selling in showrooms and retails stores with her platform HFR has only solidified her national influence as a NYFW staple if you want to experience the collections of emerging designers of color. It's no wonder why A list Black celebrities, fashion elite, cultural leaders, and everyday enthusiasts flock over to the must-see fashion presentation by cool creative entrepreneurs too often passed over within the mainstream fashion industry.
Naturi Naughton, Ty Hunter, and Emil Wilbekin were amongst the fellow guests of tastemakers, entertainers, and cultural influencers on the front row supporting the honorees of the night that included which included:
Editor of the Year: Elaine Welteroth
When your resume experience journeys back to being the Style and Beauty editor at Ebony magazine from 2008 to 2011 and advanced to Glamour magazine from Beauty writer to Senior Beauty Editor from 2011 to 2012 all under the age of 30, it was abundantly clear why HFR celebrated this Black Girl Magic with the Editor of the Year Award.
Harriet Cole, former fashion director, and editor, now lifestylist presented Elaine with her award recollecting the most memorable moments of their relationship over the years as colleagues. If you've followed Elaine's journey to becoming Teen Vogue's first Black Editor and the youngest person to appointed to the title of Editor-in-chief in Conde Nast history, you know that Elaine is a fearless trailblazer in her industry. Beautiful, stylish, and innovative Elaine has never shied away from new ideas, progressive social media interaction and authenticity.
The Trailblazer: Kyle Hagler
You can not say Joan Smalls, Liya Kebede, and Hilary Rhoda without saying Kyle Hagler. So who is Kyle Hager? The man responsible for launching the million dollar careers of some of the world's biggest Supermodels. With a 17-year track record as Senior manager at IMG Models and managing his new position as President of Next Model Managment, Kyle Hager knows how to coif a brand to be around for a lifetime. He is the advocate for models that do not fit the norm of industry categories with their look. Hagler is the force behind breaking the barriers of central casting and expanding the boundaries of beauty as the industry knows it. In an interview with the Wall Street Journal, model, and client Joan Smalls said, " Mr. Hager said I want brands to see you as multidimensional. You're Black and Latin. That solidified it. He just gave me hope to believe in myself and go for it no matter what. For a Latina, that's so relieving."
It is because of creative change makers like Kyle Hagler that models of color can navigate the fickle fashion industry and challenge the entire industry to expand is castings and representations from the stylist to the business company CEO's
Stylist of the Year: Eric Archbald
Best known for being the lead stylist to award-winning singer and actress Jennifer Hudson, Eric Archibald is known within the industry as a force to be reckoned with when it comes to red carpet fashion style. Eric always knew he wanted to be a stylist as a little boy in the Caribbean, but when he got his first break in 1994 he ran with his opportunity and never looked back. Most recently, he styled the honorees of the VH1 Hip Hop Honors: All Hail the Queens and Beyonce's internationally record breaking album "Lemonade". Eric's organic ability to merge classic edge with chic sexiness is what makes his relationship with music and fashion so intrinsic.
Icon 360 Award: Swizz Beatz
In recognition of his diverse talent and contributions to the entertainment industry with his music and astounding art expression Grammy award-winning, super producer Kasseem Dean, aka SWIZZ BEATZ,was the wildcard surprise for the night as the recipient of the Icon 360 Award. Since 1994 the Bronx native has been cranking out chart-topping singles and albums for the biggest superstars and entertainers to date. In 2015, Swizz released the pre-launch of The Dean Collection a personally curated art fair/ mobile gallery of the most renowned emerging global artist hot on the scene right now. An avid art collector, Swizz has always done great work within the art community, but as with many entertainment industries, he also saw the imbalances of the art system which propelled him to do more than just sign over a check. His creativity has opened doors for other passions such as philanthropy through the arts, education, and healthcare. Swizz humbly accepted his award and left these wise words with the audience,"We gotta support each other more. We all are busy but if Tom Ford calls all of a sudden we make it work. I had to be here like it was Tom Ford when I got this call."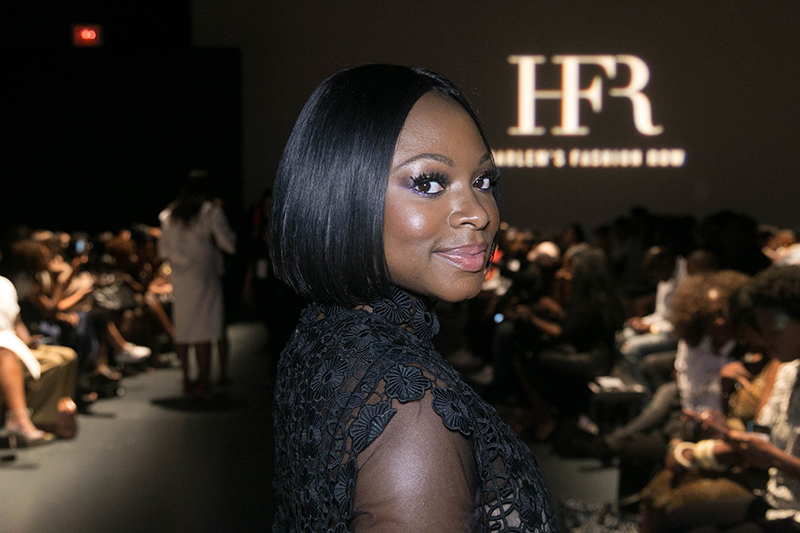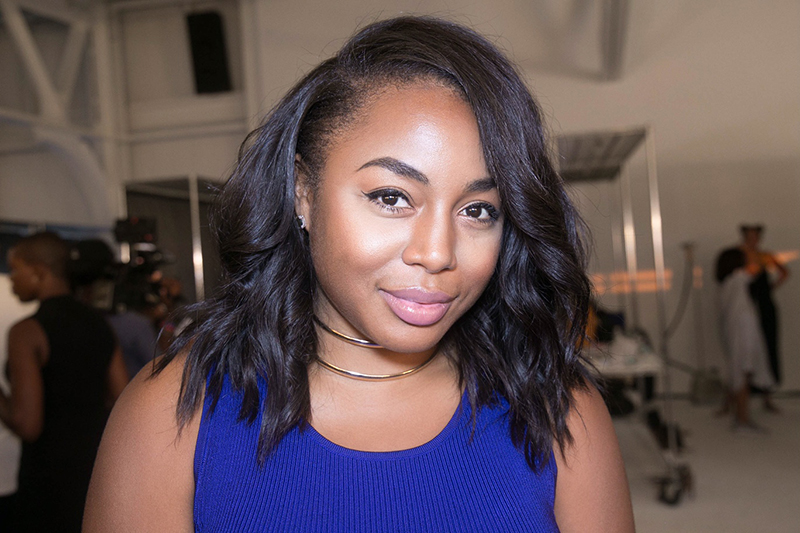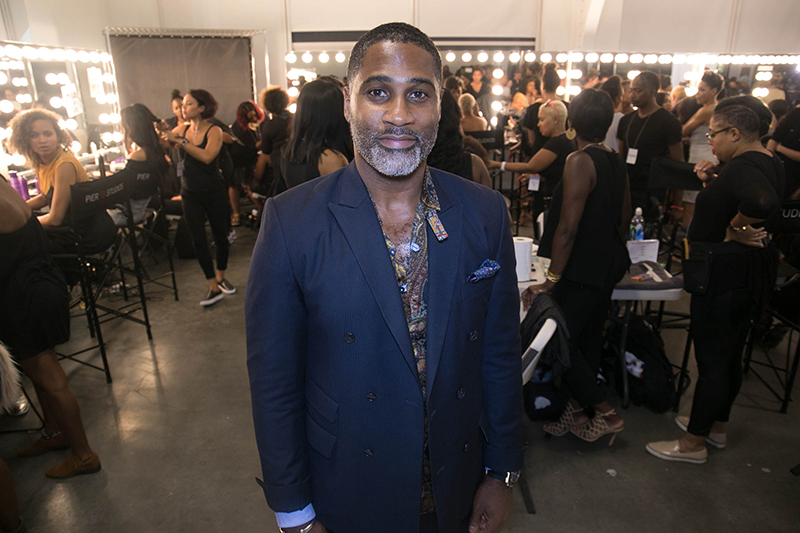 After the awards and acceptance speeches, the fashion show began with HFR's 2016 Designers presentation. Creative Director Keith Campbell was the architect behind the edgy fierce hair looks for each designer. From chic loose ended ponytails to gold wire afros and gleaming glitter roots, this season looks were about personalized artful expression.
Terese Brown: Terese Sydonna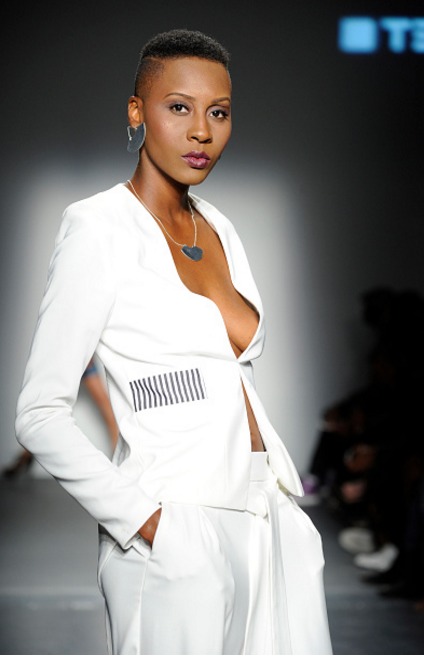 Radhika Perera-Hernandez: Lois London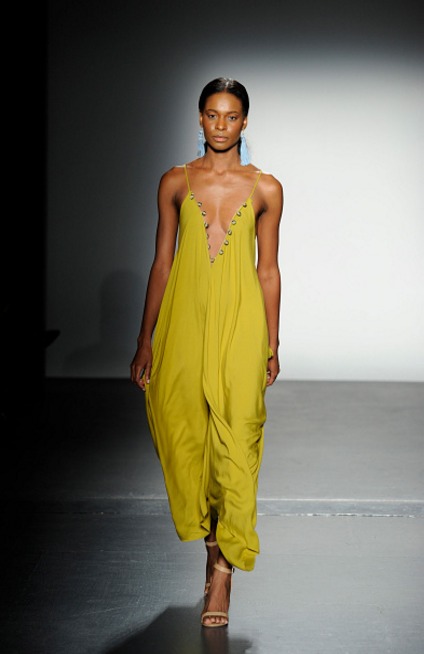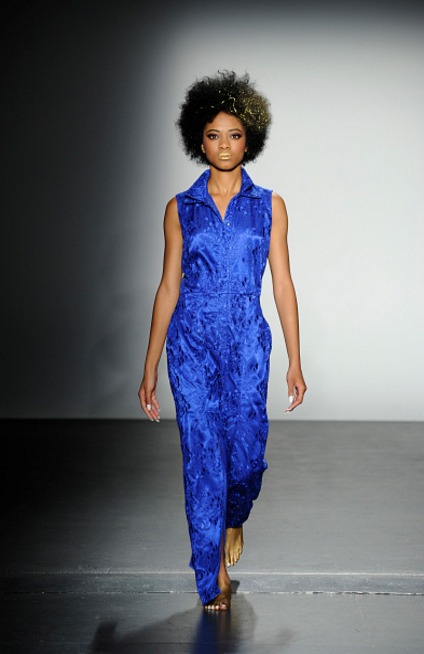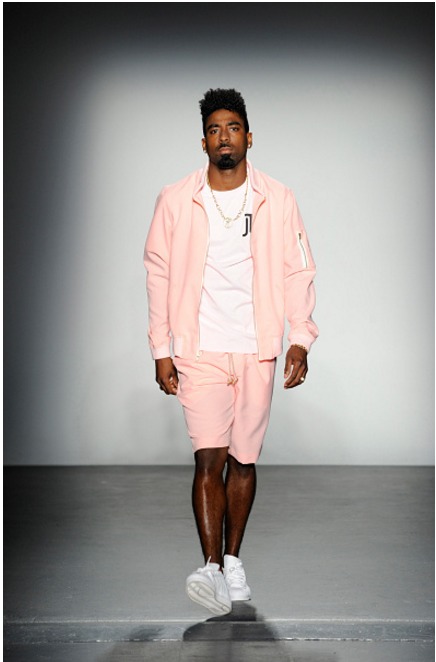 All photos were sourced from Getty Images from the following photographers:
Johnny Nunez, Arun Nevader, and Noam Galai