"But, if this part of our history could be told in such a way that those chains of the past, those shackles that physically bound us together against our wills could, in the telling, become spiritual links that willingly bind us together now and into the future - then that painful Middle Passage could become, ironically, a positive connecting line to all of us whether living inside or outside the continent of Africa..."
-Tom Feelings, Illustrator "The Middle Passage"
Happy Juneteenth! Happy Freedom Day! Happy Emancipation Day!
Commemorated on this day June 19, 1865, slavery was officially abolished in the United States in a proclamation delivered by Maj. Gen. Gordon Granger. Although slavery had been abolished by Abraham Lincoln's Emancipation Proclamation on September 22, 1862, because there weren't many Union soldiers in Texas to enforce the January 1, 1963 mandate, African Americans were still in bondage until they were informed on June 19, 1865.
Despite the deliberate delays and disproportioned systems of freedoms and justice for Black Americans throughout American history our ancestors and peers have remained resilient, courageous, and creative. It is for this very reason that we memorialize the ancestors of our past who were pioneers while remembering the bondage of our African people who endured generations of enslavement for a stake in a country with a population of people constantly fighting for democracy and human rights.
The visual art space as always been an expression of representation and revolution for Black & Brown artists. Today we especially champion the artistic pioneers of our past and the innovators of our present who have redefined and shifted the consciousness of the art industry through their adversity, their unique creations, and their choice to express the very complex, beautiful, and diverse experience of Black American life.
"Rendering the invisible, visible."
Edmonia Lewis aka "Wildfire", Sculptor
"My mother was a wild Indian, and was born in Albany, of copper colour, and with straight, black hair. There she made and sold moccasins. My father, who was a negro, and a gentleman's servant, saw her and married her."
~Edmonia Lewis (c.1844 – c.1907)
Born in Greenbush, New York in 1844 to a Haitian American father and a Chippewa Indian mother, sculptor Edmonia Lewis aka "Wildfire" was known for her Neo-Classical sculptor of figural work in carved marble. "Wildfire", a nickname given to her by her mother's Chippewa Indian tribe who raised her in a nomadic lifestyle, was most known for her busts of abolitionists and patrons as well as subjects depicting her dual African-American and Native American ancestry. Her atrocious experience with anti-abolitionist vigilantes in Ohio where she was accused of poisoning two white female classmates at Oberlin College, beaten and arrested compelled her to move to Boston and pursue a career as a sculptor. She studied at Oberlin College from 1859 to 1863 and met sculptor Edward Brackett shortly after her ordeal in Ohio, who taught her to model in clay. Soon afterward she settled in Rome, Italy, where her sculptures, created in the prevailing neoclassical style, garnered her great recognition throughout the United States and Europe. A remarkable figure in the history of American art, Edmonia Lewis boldly breached barriers of race, ethnicity, and gender becoming first Black sculptor to receive international acclaim in fine art.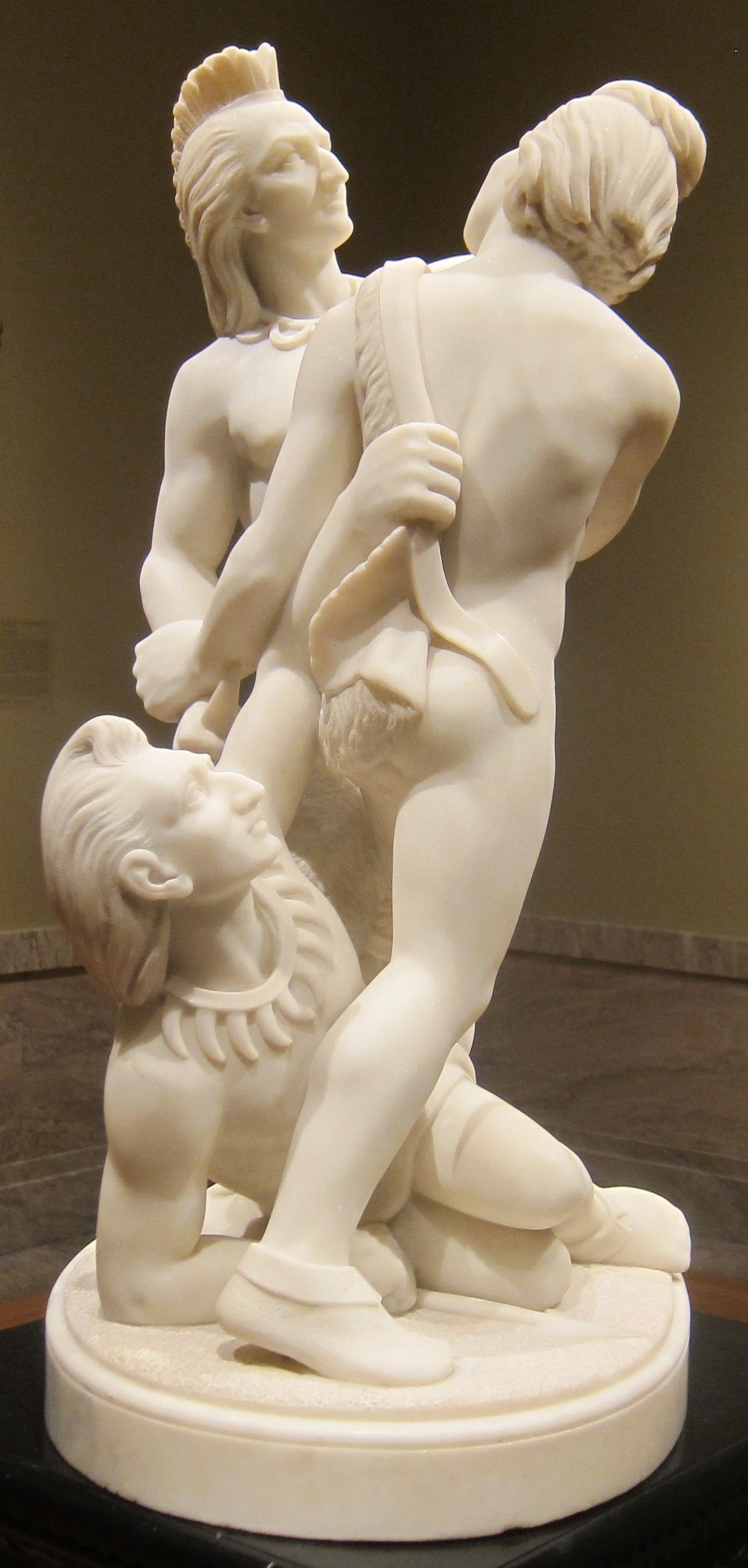 Kehinde Wiley, Visual Artist & Sculptor
"What I choose to do is to take people who happen to look like me — black and brown people all over the world, increasingly — and to allow them to occupy that field of power,"
~Kehinde Wiley
A native of South Central, Los Angeles Kehinde was born to a Yoruba, Nigerian father and Black American mother in 1977. At the age of 11, he took art classes at a conservatory at California State University, and at 12 years old he attended a six-week art program outside Leningrad (now St. Petersburg) sponsored by the Center for U.S./U.S.S.R. Initiatives. Those community programs ignited a major passion for Kehinde in the world of art and he decided to pursue art as a full-time career earning his Bachelor of Fine Arts degree (1999) at the San Francisco Art Institute and his Master of Fine Arts (2001) at the School of Art at Yale University. Wiley's early works were portraits based on photographs taken of young men found on the streets of Harlem. Is was this style that would cement his influence from the art space to the community among he was directly influenced by.
Wiley is most known for his larger-than-life figurative portraits and sculpture. Like his fellow elder counterpart Wildfire, Wiley's special gift is the essence of fusing traditional techniques with modern motifs that produce this captivating soul-stirring photorealistic style. His bold, robust representation of the African-American culture, putting persons from hip-hop culture in Renaissance poses against colorful, patterned backgrounds is how his artwork intersects the lines of class, race, gender, and sexuality defying the traditional categories of art unapologetically.